Glass fiber winding machine system solution
---
---
Solution overview
It is developed by integrating DC variable frequency speed regulation, servo motor driving, microcomputer program control, touch screen as HMI, data control package and other control technologies. DC variable frequency digital control technology with integrated Ethernet interface is used for the single spindle winding motor and the filament drum feeding motor.
Advantages of solution
1、Low noise: All single spindles are driven by motor without mechanical noise
2、Quality improvement: Small spindle speed difference, good twist and even yarn count
3、Electronic brake: Realize quick and synchronous stop for spindle and filament drum motor.
4、Synchronous shutdown: The system can maintain power supply for several seconds after power failure of the grid to ensure motor synchronization
Program composition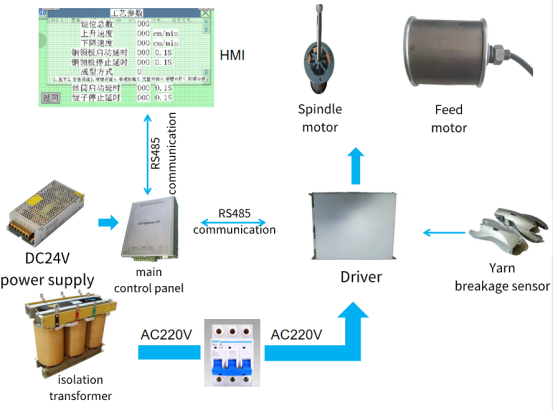 success cases
---